Zephyr Cove County Park

Just 1/2 mile north on US 50 from the TahoeTarns vacation rental is a rustic public park that was established by endowments from some of Nevada's most famous people, including Sammy Davis Jr. Driving to the park is recommended since there are narrow shoulders on US 50 where it crosses a creekbed along the way. If you are very intrepid, you might try hiking cross-country through the US forest land that begins at the end of the culdesac street.
Click on any thumbnail picture for a larger image.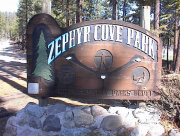 From Zephyr Cove Resort, drive 1/2 mile north on US 50 to Warrior Way. There is a sign indicating "County Park", and a fire station on the corner. Turn right on Warrior Way, and you will shortly find this sign indicating the entrance to the park.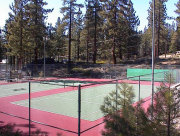 The tennis courts are "first come, first served" (no pun intended), with a tennis pro on duty every day from 8 a.m. to 5 p.m. (call Douglas-Tahoe Recreation Office at 775-588-0271 to confirm). The tennis pro has ball machines and rackets available, and will collect $5 per person, per hour, for court use. In the evening, court use is free and the lights can be operated by depositing quarters ($1/hr).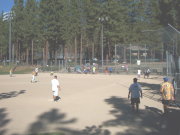 The ballfield is usually available, but can be reserved for a $30 fee by calling the Douglas-Tahoe Recreation Office at 775-588-0271. For night use, the recreation office will charge $25 for use of the lights.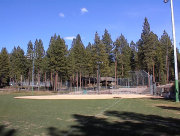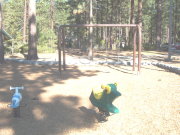 By the ballfield, is a children's playground with good, sturdy playground equipment.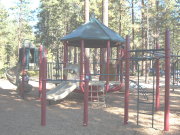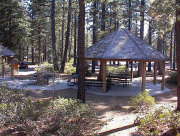 There are small picnic gazebos and a large group picnic site, all equiped with barbecues and food preparation tables.
At the public library, you can catch up on the news and access the internet for no charge. The library is open Tuesday - Saturday, 11 am to 6 pm.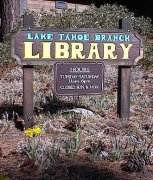 Zephyr Cove, South Lake Tahoe / Maria & Bob Tarn / Maria@TahoeTarns.com
This page updated 06/19/10